HP GROUND CONTAINER
YACHTING AND MARITIME - MILITARY AND DEFENSE
HP has designed a system composed by indipendent units producing 3.6 cubic meter per hour each. The single unit is designed to work indipendently for 24 hours a day, using seawater with 35.000 mg/l TDS at 25°C. The water produced will be characterized by a residual salinity between 500 and 1000 ppm TDS. There will be no more organic big molecular substances, as viruses, bacteria and pyrigen agents. By using more than one of it, it will be possible to increase the production of fresh water.
The advantages of this solution are immediately clear. It will be possible, for example, to substitute the membranes, to wash them with fresh water or chemicals. It will be also possible to save the energy needed for the start, thanks to a smaller total energetic absorption, in that the pumps could start one after the other; ordinary (and extraordinary) maintenance of the system, even in case of damage, will not stop the production.
The sea water, intaken by the low pressure boost pump, will pass through a sand filter that stops all the biggest particles in suspension up to 150 micron. A group of hand operated valves can be used for the maintenance of the sand filter and for a fast chemical washing of the membrane. After this passage the second boost pump will bring the water through the first cartridge filter of 60 micron and then into a second one of 5 micron.
In the further step, a dosing pump will inject an anti flocculation solution to avoid the precipitation of the heaviest elements dissolved inside the water on the membranes. When the water will arrive to the high pressure pump it will be pushed at 55-60 bar into the osmotic membranes modules. By this pressure the desalination treatment will take place. Through the pressure effects just a pretty small portion of water will pass through the membranes (18-20%). This will be called "permeated water" and will be drinking water. The remaining portion, "the concentrated water", will be flown to the sea.
The fresh water produced will be tested by a conductivity control system which will check its salinity, and which will decide to send it to the tank if the quality level will be corresponding to the standard quality parameters, otherwise the water produced will be dumped back to the sea. The unit will be fitted into 20 ft or 40 ft air conditioned containers.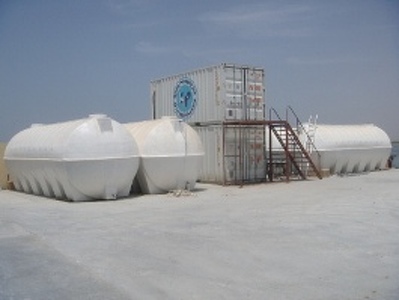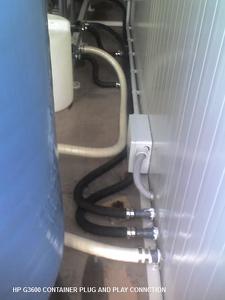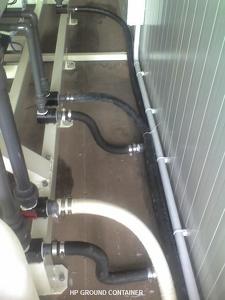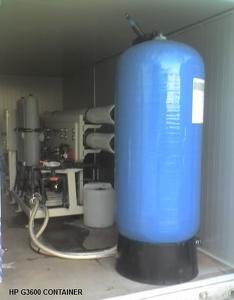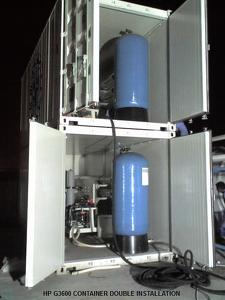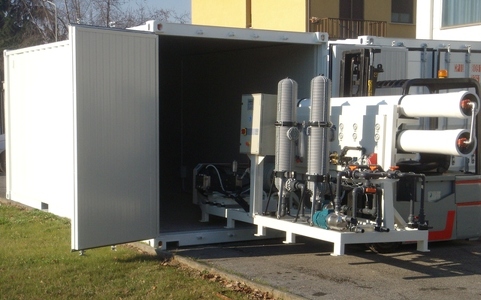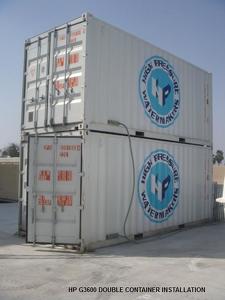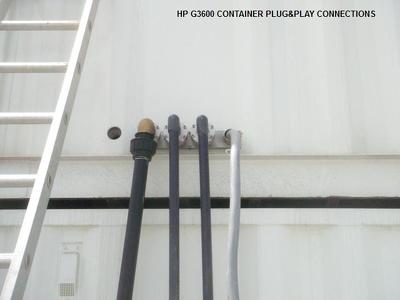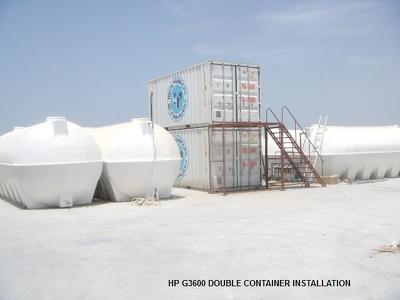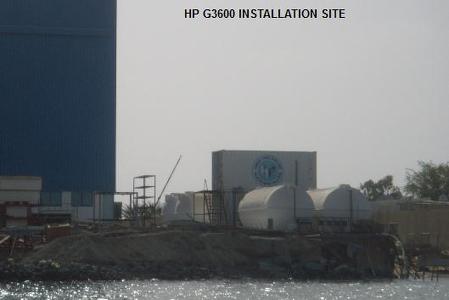 Models
HP GC 3.6M
Liters:
People:
Functioning:
Manual
Internet:
No
--
HP GC 4.2M
Liters:
People:
Functioning:
Manual
Internet:
No
--
HP GC 7.2M
Liters:
People:
Functioning:
Manual
Internet:
No
--
HP GC 10.8M
Liters:
People:
Functioning:
Manual
Internet:
No
--